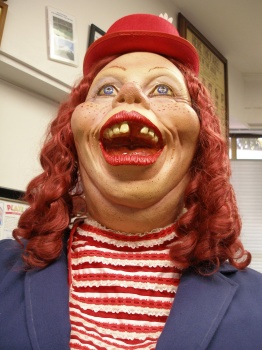 Before I begin, I have to stress again that when of the theatre company's plays are approaching, or being performed, I don't have as much of a chance to enjoy good cheeses. Although Kathy and I got to go to a couple restaurants this past weekend, there was NO cheese with our meals (GASP!). I'll blame this partially on the fact that Senegalese and Indian cuisines don't tend to utilize much cheese.
…and then there are times when where you go to eat does use cheese, but you're left wishing the proprietors or owners would step up to the plate and give better consideration to the cheese that they do use.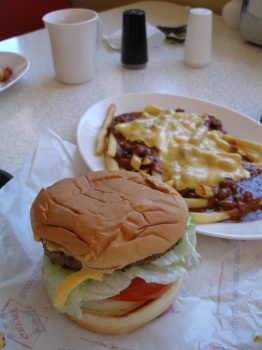 To set the scene, Kathy and I had a few non-theatre hours to enjoy on Saturday. We decided to go to the museum of fun, the Playland Not at the Beach, in El Cerrito, California. This interactive museum is an homage to the history and memory of  Playland at the Beach, which was a sea-side amusement park in San Francisco from roughly 1913 until 1972. For more detail about this long-gone park, here's a Wikipedia article link. Since the museum doesn't serve food, we decided to get into the spirit of an amusement park by going to Nation's Giant Hamburger for hot dogs and hamburgers first. This chain of fast-food restaurants seems to only span part of California's Bay Area, and is noted by locals because it also serves and sells pies. Certainly Nation's is a huge step up from other larger fast food chains, and is pretty much what you expect of a chain of hamburger & hot dog restaurants.
Before I proceed; I get it. I understand that a "classic" American cheeseburger is going to use a slice of American Cheese. It is the cheese used with Nation's other menu items which surprised me. I ordered chili fries to go with my cheeseburger, and Kathy ordered a chili dog. We were both asked if we'd like cheese on our chili. Naturally we said yes, but the fare, and the cheese were different from what I had imagined. Somehow I expected one of two things; either some shredded Cheddar cheese, possibly with a little Monterey Jack mixed in, or some heated "cheese sauce" which comes from a #10-size can (the stuff they put on nachos at places like roller-skating rinks)… what we received? A couple slices of American cheese slapped onto the top of our chili.
I spent the better part of the meal musing to myself about why they were using American cheese slices on the chili. Here's a few reasons I thought up;
1). It's most likely much cheaper than any other cheese they could buy.
2). It has a much longer shelf-life than other cheeses, thus less spoilage.
3). Stock a single cheese, and it is easier to approximate the daily amount needed.
4). Some people may come to expect their chili items to use American cheese.
5). The franchise has absolutely no desire to distinguish itself or the quality of their chili-cheese items.
Alright, I'm not on a mission to "bash" American cheese (well, maybe a little bit), but I am left to wonder what the price-point is that causes fast food establishments to not care about the quality of their ingredients.  …and before you even ask, I'll answer the question; "did you eat it?" Yes, yes I did. Enjoy it? No, not really. Although fine on a cheeseburger from time to time, I determined that American cheese does NOT belong on any chili I'm going to eat.
Making it worth getting through the meal, and the American cheese, was our visit to Playland Not at the Beach Museum of Fun. The strong sense of nostalgia combined with the chance to experience some of the amusements of yesteryear make this museum worth visiting. The many volunteers were not only friendly, but you can tell from their enthusiasm and knowledge that they truly enjoy sharing the collections with the patrons. Part tour, and part hands-on fun, the museum has every last corner cram-packed with things to look at and interact with. Also, with admission, is unlimited "free play" of the numerous pinball machines spaning the decades of pinball history.  Kathy and I easily could have spent another hour or two there, but had to rush back to meet our theatre obligations.
Do you actually LOVE American cheese? Revile it? Whether you'd like to defend or criticize it, give your two cents in the comment section (bottom right of the post).