Can you find the cheese in this picture? OK, yeah, it's a martini, and I didn't mean to get your hopes up; there's NO cheese in the Martini. It is, actually, a savory Martini from the pages of Gourmet Magazine (recipe link here). This is a lead-in, however, about how even when you don't know what to make for dinner, you can almost always incorporate cheese. It was the Martini which inspired me to bake some Cheddar Biscuits.
Yesterday I mentioned to a friend that I was low on cheese in the fridge at home. Low meaning that I was down to just some Gorgonzola, some extra sharp cheddar, Parmesan, and Sapsago (and I later discovered we also had some pre-sliced Asiago too). But what to make for dinner? I also had some boneless, skinless chicken breasts I had thawed that would need to be used. What we ended up having was this:
Black Tie Martinis with Cheddar Biscuits (more like a savory cookie)
Lettuce Wedges with Roquefort Dressing (yeah, it was actually Gorgonzola Dressing)
Braised Chicken and Mushrooms on Roasted Garlic Mashed Potatoes
We could have had some of the Pumpkin Chocolate-Chip Cake that Kathy had made the day before for dessert, but we were stuffed.
I'd already found the chicken recipe on the Internet before going home yesterday, and I knew we had all the needed ingredients. When I got home I grabbed a paperback that used to belong to Kathy's Great Aunt Frieda, Betty Crocker's Dinner for Two Cookbook (1977). The first page I turned to had the "salad" recipe, which hearkens back to the mid-1970's when just about the ONLY lettuce used for salads in the United States seems to have been iceberg lettuce. Funny thing though, I still had half a head of iceberg in the fridge from when I used it in a Burmese Fermented Tea Leaf Salad. The Roquefort dressing, which takes all of five minutes to make, is not only creamy and decadent, but incredibly easy and fresh tasting. Kathy commented that we should continue to make only fresh salad dressings at home since they're always pretty easy. 
The cheese biscuit recipe I dug out of tall thin paperback; Cheese Cookery (1980, published by HPBooks). It is very similar to another recipe I sometimes make, except that it calls for regular butter instead of unsalted, doesn't require pepper (which our Martinis already had), and doesn't call for walnuts (which I was out of). The extra-sharp cheddar cheese (produced by Cabot of Vermont) I had I picked up at Country Cheese, which has a location in both San Francisco and Berkeley. County Cheese always has a large, international, selection of cheddar cheeses at reasonable prices, and it's also where I buy my Sapsago (a dollar cheaper per cone than at the Cheese Board). They naturally carry a lot of other cheeses too, and as the blogger "SF Ordinary Girl" pointed out to me at the Blogger Mixer, they also carry an excellent Italian Buffalo mozzarella.
Below I'll copy the two cheese recipes I made last night since I don't think I've had the chance to post any in awhile. One last added note about the Cheddar Biscuits; you don't have to bake all of them; you can cut off what you need from the log, tightly wrap the remainder, put into a freezer bag, and keep it in your freezer. When you want to make the rest, thaw the log in your fridge, and then bake up the remainder.
Lettuce Wedges with Roquefort Dressing (for two)
·         ½ cup sour cream
·         ¼ cup crumbled Roquefort or other Blue Cheese (about 1 ounce)
·         ½ teaspoon lemon juice
·         ¼ teaspoon salt
·         2 lettuce wedges
Instructions:
Mix all ingredients  except lettuce wedges. Cover and refrigerate at least 1 hour to blend flavors. Add small amount of milk or light cream if necessary for proper consistency. Spoon onto lettuce wedges.
Little Cheddar Biscuits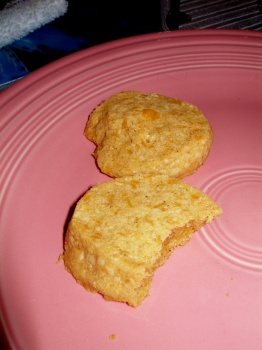 ·         2 cups all-purpose flour
·         1 teaspoon dry mustard
·         1 teaspoon paprika
·         ¼ teaspoon baking powder
·         1 cup butter, room temperature
·         2 cups shredded sharp Cheddar cheese (8 oz.)
·         1 teaspoon Worcestershire sauce
Instructions:
Combine flour, dry mustard, paprika and baking powder in a medium bowl. Set aside. Beat butter in a large bowl by hand or with an electric mixer on medium speed until fluffy. Slowly beat in cheese and Worcestershire sauce. Gradually add flour mixture, stirring with a fork until combined. On a lightly floured surface, shape dough into a long roll about 1 & 3/4-inches in diameter. Wrap in plastic wrap or foil. Place on a platter. Refrigerate 2 hours or overnight. Preheat oven to 325º F (165º C). Slice dough about 1/3-inch thick. With hands, roll each slice into a ball. Flatten slightly. Place on an ungreased baking sheet about 2 inches apart. Bake 8 minutes in preheated oven. Biscuits will only brown slightly on bottom, Makes about 36 biscuits.
Now that my cheese larder is near empty, do you have a suggestion of a favorite cheese I should try?