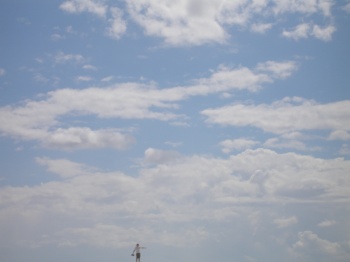 White Sands, New Mexico where the land mingles with the horizon.
As you already know, I'm partial to any meal which includes, or at least incorporates, cheese. As we traveled through New Mexico, we ate a lot of New Mexican Mexican Cuisine, but rarely encountered anything too different from basic cheddar cheese added to the dishes. The food its self was great, but just not very diverse when it came to cheese.  
If there's anything to be learned from this, I guess it is that we should all not take our local cheese choices for granted. Living in the Bay are of California gives me a huge, almost unfair, advantage to other parts of the country; we have a great many excellent artisan cheeses in this state, and excellent places from which we can buy cheeses from all over the nation and world.
Another excellent stop on our trip, however, was the town of Silver City, NM. Initially we stopped at the outskirts of the town at a ranger's administrative office before traveling to the Gila Cliff Dwellings (the Gila National Forest happens to be where Smokey the Bear was originally rescued in 1950). I hadn't had enough coffee that morning and asked at the office if they could recommend a good place for coffee nearby. "Well, there's an Arby's up the road, and if that's closed, there's a Wendy's not too far…" –This was not quite the best first impression for the town. When we returned to Silver City after hiking around the Cliff Dwellings, we considered driving right through it. Fortunately we didn't. We quickly read a couple of our Southwestern guide books, discovered that it was the birthplace of Billy the Kid, and also there was a highly recommended restaurant.
Silver City charmed us. Everyone there was friendly. We found an excellent large cafe which was relaxed, filled with mismatched furniture, a great many of locals of all backgrounds conversing… really it was like all the "best of" elements from all our favorite cafes in the Bay Area. Also in town was an independent toy store filled with fun curiosities. The proprietor of the toy store suggested the Palace Hotel across the street there in downtown if we were going to say.  This was  a perfect suggestion since it met our aesthetic; funky, historic, slight run down, and yet clean.
Um, Bryce…? Cheese?
Yes, yes, I was almost there! Dinner in Silver City. We went to the highly recommended Diane's Restaurant. The story of the restaurant (see "about" on their website) is an encouraging tale, and they also run an excellent bakery in town. The decor, food, service and quality were all on par with a good independently owned restaurant in San Francisco, minus the pretension and exorbitant cost (don't be misled though; I'm certain that the prices at Diane's are higher than many locals may care to pay). On their appetizer list was indeed a cheese plate, but I ended up not ordering it (if you can believe that). Why? Because neither the waitress or the chefs could tell me exactly where the cheeses were from (name of the company and/or location).  I don't
doubt that the quality was excellent, but if you don't know specifically what you're having, then what's the point? A cheese plate is often an opportunity to try new cheeses. If Diane, the owner was there, I feel we would have found out what the cheese plate consisted of. The meal we did have, however, incorporated cheese, and well. Kathy ordered the lasagna (The waitress politely asked; "you realize there's no meat in it, right?"), and I ordered a special they had; Filet Mignon. It was cooked perfectly and had a fresh slice of mozzarella melted on top, having been placed briefly under a broiler. Excellent. Our meal at Diane's was really perfect. Our waitress even took the time to answer all our questions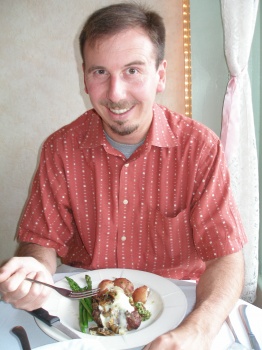 about the town she lives and works in.  Although completely different from the meal we had in Santa Fe with Anne and Ethaan, this meal in Silver City was another favorite of the entire trip (the third restaurant favorite being Sushi in San Diego with German friends).
It's Saturday tomorrow and I'm hoping to make it to one of my favorite cheese stores since we live here in the Bay Area, and can. Although we really loved what we saw of New Mexico, if we were to live there, there would have to be a good cheese counter in the town where we live. If you have any favorite cheese that you'd like to suggest, or are curious about, please let me know. Use the comment section at the bottom of this post. Thanks and have a great weekend!