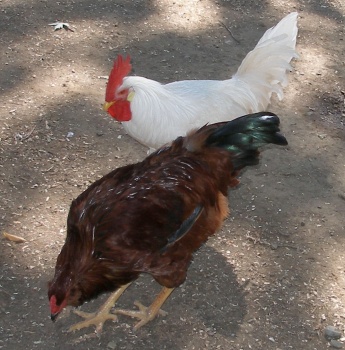 This past weekend Kathy and I wanted to do something/go somewhere to celebrate our wedding anniversary. As you already know (if you read yesterday's post), for dinner on our anniversary we enjoyed a fondue which was new to us. For the weekend, well, it was going to be mainly unplanned. We'd find something interesting to do.
Using Google, I did some searches such as; "CA festival September 20 2008″. This resulted in discovering the Third Annual Fair Oaks Chicken Festival. The town of Fair Oaks, California, is a town between Folsom and Sacramento alongside the American River. Besides already having a Spring Festival each year, as well as a theatre festival, Fair Oaks has embraced the fact that their old downtown area (named "The Village") has chickens which run wild in the area, and has decided to celebrate the fact.
Chickens; yeah, yeah, what about cheese Bryce?
Despite enjoying some wine, looking at the various arts and crafts booths, and listening to some live bands play, we found no cheese. Actually, we didn't even eat any chicken. The website for the event mentioned that food vendors would be featuring chicken, but we ended up having some barbecue pulled-pork sandwiches. Perhaps we just wanted to protect our friend's feelings (seen pictured with us). We'd driven about two hours to get to the festival, and as we finished up there, I realized that South Lake Tahoe was only about two hours away, and that that town certainly had cheese. Specifically, I had in my mind a Swiss restaurant I had always wanted to try.
So we did drive the two hours…
Just for cheese, Bryce?
Well, not just for cheese; Lake Tahoe is beautiful, the drive there would be nice, and if we felt like gambling at all, we could cross over the borderline into Nevada and go to a casino. But yes, I was thinking about one of Switzerland's national (and regional) dishes; Röschti . Röschti is a potato dish, which can have a lot of variations, depending on what you add to it. My favorite? Any type of Röschti which involves cheese (of course).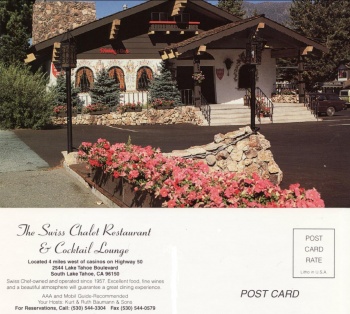 The Swiss Chalet Restaurant in South Lake Tahoe is a beautiful place, very well maintained, excellent ambiance, and a lot of authentic dishes and decorations. What we were surprised to find, however, was that there was no Röschti on the menu at all, of any variety. When we asked out waiter, he explained that they will make it, by special request, if they get a 24 hour warning. Kathy and I joked, a little at their expense, about why the dish would take 24 hours preparation. With the exception of baked potatoes with some of their menu's dinners, we have to surmise that they like to use a particular type of potato for their Röschti [did you know, for example, that the Inca Civilization grew

over 200 kinds of potatoes?], and perhaps they needed the time to get them. With no Röschti, my attention went immediately to the fondue, but we had just had fondue the night before (not that it should matter), and for cheese fondue the Chalet was only offering the "traditional"-style Swiss fondue, and the menu did not even identify the types of "Imported Swiss Cheeses" they use (that made a difference to me). So, I opted for the "Specialty the Swiss Chalet is Famous for"; the St. Moritz Schnitzel, which is a Cordon Bleu but with veal instead of chicken (I never DID have any chicken on Saturday!). I was NOT disappointed. From the fried breading, to the interplay between the Gruyère, ham, and veal, the dish was so perfect that my toes were curling.

So, Gruyère was the only cheese I ate on Saturday.
Well, in that case, did you gamble at all?
We did step into a casino, looked around for a blackjack table which would be $5 or less. Found only one; completely occupied complete with a boisterous, somewhat portly guy (about our age), "holding court" as he played and smoking a cigar… As we passed by I heard him saying to another player; "Me, I'm married, so I'm not making a pass at your wife, but…" Didn't hear how that ended. Kathy and I both played at some one-cent slot machines for about 10 minutes (my $1 yielded $7.36), and as we were leaving, the very same man with the cigar was on the floor, surrounded by paramedics and obviously in pain. Stroke? Passed out? Something else? I went to the gym the next day. Sometimes you need these over-the-top reminders.   …enjoy your cheese, and your chicken, but always in moderation, and do what you can to stay active and healthy.