Happy Halloween.
"Trick or Treat!"
     "Ooooh! Batman and, um… Hannah Montana? Here you go Batman, here's a wedge of cave-aged cheddar, made from Amish goat's milk in central Wisconsin. I hope that the cave theme appeals to you, and that as you consume it you might reflect on the the Amish's religious beliefs such as their rejection of Hochmut. Yes, I know this is complex for a seven year old, but just roll with it.  …And for you, Hannah, a square brick-like package of Kraft Singles representing the pre-packaged, pop nature of your marketing. Opening each individual slice will feel like a new surprise until you discover that they are always exactly the same, and fairly tasteless. Don't be too discouraged however, your 15 minutes will be up soon…"
Alright, alright, just kidding. But could you imagine it? Although, I guess cheese would be a treat to me, but a trick to kids expecting candy.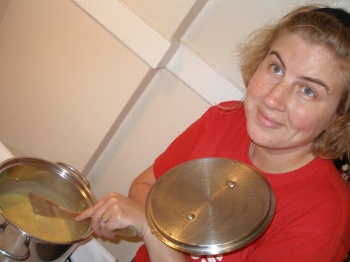 In all honesty though, I hope everyone has a fun and excellent Halloween today. There are not many people at work today (my day job); has a lot to do with the first rain that San Francisco has had in quite awhile. At home, the steam heat in our building has yet to be turned on, so due to the colder, rainy weather, Kathy made an excellent cheese and beer soup for us last night. Kathy had picked up some aged cheddar cheese imported by Kerrygold from Ireland. We didn't happen to have any Parmesan at home, so I helped her out by grating some Serena from Three Sisters Farmstead Cheese for the soup.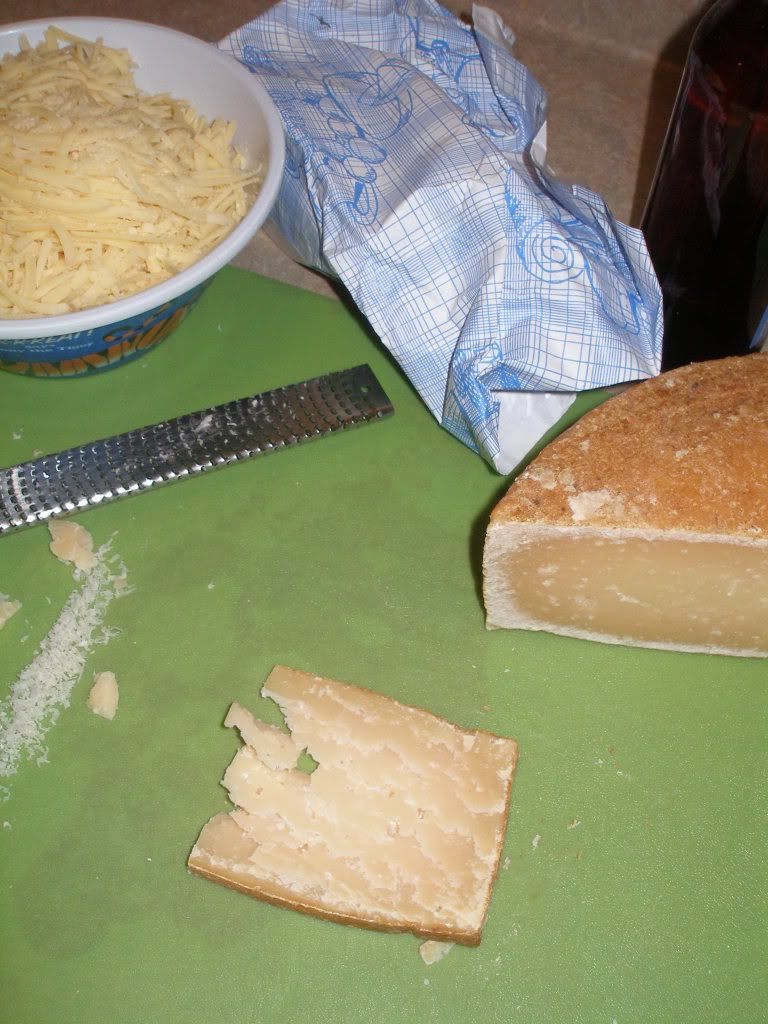 This simple recipe is very tasty, and is not unlike a soup version of Welsh Rarebit (with vegetables added). It initially tastes deceptively light as you take a spoonful, but then you experience a deep warmth in the back of your throat caused by the interplay of the cheese with the beer and chicken broth. This soup is as gourmet as you care to make it; depending primarily on the quality of cheddar that you use. If you have a favorite cheddar, use it. If you desire a lighter tasting soup, you can even use a mild cheddar from the super market (although, as I always say; use the best quality cheese you can for your budget, and to your personal taste). Recipe follows. I'll have more cheese-related events to report on after the weekend. Oh, be sure to use the comment section if there was cheese at any Halloween parties you attended, let us know what was served from mundane to exquisite.
Cheddar and Beer Soup
Copied directly from: "The Best of Sunset Weeknights; 122 Quick, Easy Meals, 2004". Although many of Sunset's recipes can be found on-line, I could not locate this specific one, and am thus copying it verbatim from their magazine-book.
Prep and Cook Time: About 30 minutes
Makes: 4 to 6 servings
Notes: Serve this hearty soup with whole-wheat bread or biscuits and a salad of escarole and radicchio. Wheat beer, also called hefeweizen, is available in well-stocked supermarkets.
·        
¼ cup (1/8 lb.) butter
·         ½ cup thinly sliced celery
·         ½ cup diced carrots
·         ½ cup chopped onion
·         ½ cup all-purpose flour
·         ½ teaspoon dry mustard
·         ¼ teaspoon dried thyme
·         4 cups fat-skimmed chicken broth
·         1 ½ cups shredded cheddar cheese (6 oz.)
·         3 tablespoons grated Parmesan cheese
·         1 can or bottle (12 oz.) wheat beer
·         Salt and Pepper
1. Melt butter in a 4 to 5 quart pan over medium-high heat; add celery, carrots, and onion and stir often until vegetables are soft, about 10 minutes.
2. Stir in flour, mustard, and thyme; cook for 1 minute. Gradually add broth, whisking until smooth. Increase heat to high and whisk until mixture is boiling. Reduce heat, cover, and simmer, stirring occasionally, until vegetables are very tender when pieced, 12 to 15 minutes.
3. Stir in cheddar and Parmesan cheeses; when melted, add beer and heat until steaming. Season to taste with salt and pepper. Ladle into bowls.