It's that time of year; the time of year when you're flying off to visit friends or family for the holidays and the biggest concern you have is whether you are allowed to bring cheese with you or not. What? That isn't your biggest holiday concern? Well, it happens to be mine (today at least).
Kathy and I have just about everything planned; people to apartment-sit and watch over Nikita (the cat), plane tickets, ride to the airport, and I'm worried about cheese. We're traveling up to Seattle again where a great many of my cousins and their families are, my brother and sister and law are there, my parents will make it, and even my sister and nephew who live in New Zealand. I've a great desire to share some California cheeses with everyone…
You can correct me if I am wrong, but I believe you still can't take liquids (more than 3oz) -OR- food with you into the waiting areas for flights as carry-on luggage. It is for this reason that I'll be doing what I can to safely store, in my checked luggage, the cheese that I plan to bring. What I have is a small semi-insulated bag, and some non-toxic frozen "bricks" which are often used to mail cheese. I doubt it'll be more than eight hours that the cheese will be away from proper refrigeration, and since we'll most likely be eating it the same day that we arrive in Seattle, it should be fine.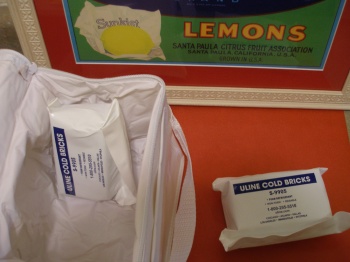 I called our airline to assure that my assumptions about packing cheese in this manner, in checked luggage, would be alright. I got the green light, but I'll admit, I'm still a little nervous about it. When you spend a fair amount on holiday cheese, you want to be assured that it'll make it to your destination with you and not be confiscated by security connoisseurs.
So far, the only cheese that I know, without fail, I wish to bring is Truffle Tremor from Cypress Grove Chevre. I'm open for additional complimentary choices of your favorite Californian cheeses (preferably Californian, this time around) that I should bring to our relatives. Use the comment section to give some suggestions/favorites.
Also, Tami Parr, of the excellent cheese blog, Pacific Northwest Cheese Project, gave me some great suggestions of cheese-related stores, restaurants and some out-lying creameries in and near Seattle. I hope we'll make a few cheese-related destinations during our short trip. Happy Thanksgiving to everyone, and don't forget to serve some quality cheese at your feast!