Happy Holidays everyone!
With the exception of the New Year, the holiday season is quickly passing by, and I will now have some time to write all the cheese blogs I have been meaning to write. On top of that, I have a new toy… uh, tool, to help with this; an Acer Aspire One. During my entire time at my last job I had to haul around a massive laptop computer with me just in case I had to do some remote work for work. Although having the laptop was convenient, it was a real hassle to carry around. My new Aspire One weighs all of 2.78 pounds, and is no larger than a hardback book. It runs XP instead of Vista (XP is a much better operating system) and can do everything I need it to for blogging.
Yeah, yeah Bryce, you're a tech-geek. What about cheese?
Sorry, "Inner-Cheese Voice", …I am excited about this computer though. Wanted to write a little bit about the Artisan cheeses of Marin French Cheese today. Traveling just a short way out of Petaluma, California, a trip to
Marin French Cheese offers the chance to journey through some scenic hills. Much of the area is used for grazing pastures, and you get a real sense of how the land surrounding Petaluma is used for dairy. The creamery's location is a favorite of touring cyclists, and an excellent destination for anyone who enjoys cheese. Beyond wanting you to enjoy their cheeses, Marin French Cheese's location makes its self very inviting with a store, complete with sandwich counter, a picnic area and a duck pond. Tours are offered (call or check their website for the tour schedule), and they are also often offering excellent discounts on their fantastic cheeses.
THE CHEESE: it is what it sounds like it might be; French-style soft-ripened cheeses made locally and packed by hand. Their cheeses can be found far and wide; and I have even seen them carried in San Francisco's Costco (a chain of wholesale-like membership stores). It's no wonder; their cheeses are excellently crafted and made with the care you'd expect of an artisan cheese. Their  brie, & camembert are very much in league with their French cousins, but local (to California), and at non-import prices, affordable for more frequent enjoyment. Also, unlike their French counterparts, Marin French offers many of their cheeses in a "Petite" 4oz size, which allows individuals to not have to overload on having too much of a good thing at one time.
One of my favorite types of Breakfasts includes; A) not having to get up early, B) hard crusted, soft interior, French-style loaf breads, C) fresh butter, D) soft French cheeses, and E) excellent hot coffee. Sure, you can throw in some jams and thinly sliced cured meats too if you'd like, but as long as I am enjoying cheeses like that of Marin French Cheese, I should be set.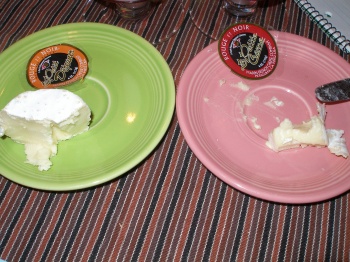 a>
If your local cheese shop doesn't offer Marin French's Cheese, you can also get it online.
Great; now I'm hungry. I've got one "Petite" round  of their "Breakfast Cheese" (original to their creamery and to California dating back to Lincoln's presidency) at home. That'll be tomorrow's breakfast.
What are YOUR favorite cheeses for breakfast? Use the comment section to let me/everyone know. Thanks.