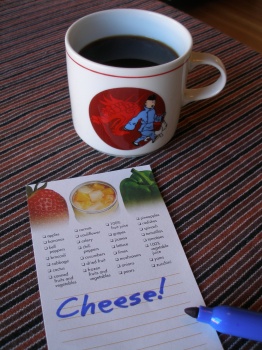 Whenever possible, there's never quite anything like starting the day with cheese. Simple, fast breakfast; good cheese, good bread, real butter, some eggs and strong black coffee. Had to go through the cheese drawer this morning in the fridge and make plans for what is left in there. I also needed to discover what may have turned on me when I wasn't looking, and what I could eat for breakfast. YES, I LOVE Artisan cheeses from California and the United States, but I love cheese [.] period! Some of my favorite cheeses are Swiss raw cow-milk, semi-firm cheeses. I was thrilled to see that we still had a little wedge of a very distinctive Swiss cheese that I had purchased; Alemennkäse. Much like an excellent Gruyère, it is a hard-to-find, smaller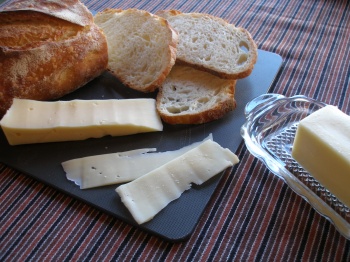 production cheese distributed through Crystal Foods Import of Boston. Truth is, I bought it at The Cheese Board in Berkeley, California, but as I began to write this, I wanted to make sure I had the spelling correct of the cheese, so I could look it up online. I called the Cheeseboard, and despite telling them what I had bought, they could not find or tell me what it was. "Our Swiss is from the company Emmi…" said their cheese buyer on the
phone. "No, no," I replied, "this was from a smaller producer. One that carries the BIO label ["BIO" is a type of European labeling representing organic products]." Regretfully the cheese buyer at The Cheeseboard wasn't following me at all, and claimed they didn't carry it. Frustrated, I called someone I knew who WOULD know; Gordon Edgar of Rainbow Grocery in San Francisco.
Although I was embarrassed to admit that I had questions about a cheese that I had not bought from Gordon's cooperative, he was as helpful and knowledgeable as ever, taking the time to talk to me about it. Not only did he get me the correct spelling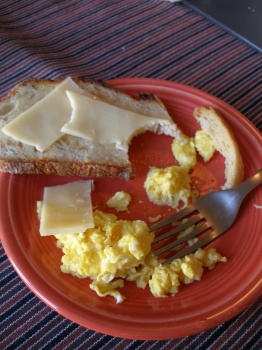 of the name, but he also says that Rainbow Grocery carries it as well.
The Internet has nothing to say about Alemennkäse, that I could find, but armed with information from Gordon, I spoke with the kind people at Crystal Foods Import, and then with Caroline Hostettler, who is herself Swiss, and imports quality cheeses from Europe via her business (located in Florida); Quality Cheese. Confused? Well, no need to be; thanks to cheese buyers like Gordon, you can sit back and relax after picking up cheese like Alemennkäse at Rainbow. The good news is that Caroline will be sending me some information about Alemennkäse via e-mail soon.
OK, now that we're confused, what does this have to do with the weekend?
Thanks for getting me back on track, "inner-cheese voice". Crystal Foods Import will be one of the hundreds of companies  at the Fancy Food Show [booth 3607] which starts this weekend in San Francisco. Kathy and I are attending on Sunday, meeting up with friends from both Chico and Orange County (California), and eating our way through a world of food. I hope to have something interesting to say about the cheeses represented there after the weekend.
Also this weekend, I'm planning on attending two events in honor of Clark Wolf's Book; "American Cheeses"
The first event is today, Friday the 16th of January at the Pasta Shop in Berkeley. The second is tomorrow, hosted by Cowgirl Creamery at San Francisco's Ferry Building and is a triple celebration; Wolf's new book, the Launch of Culture Magazine and the start of the Fancy Food Show. Hope to let you all know about these events following the weekend.
If YOU'LL be at the Fancy Food Show this weekend, let me know using the comment section below; perhaps we can meet up and enjoy some cheese together.