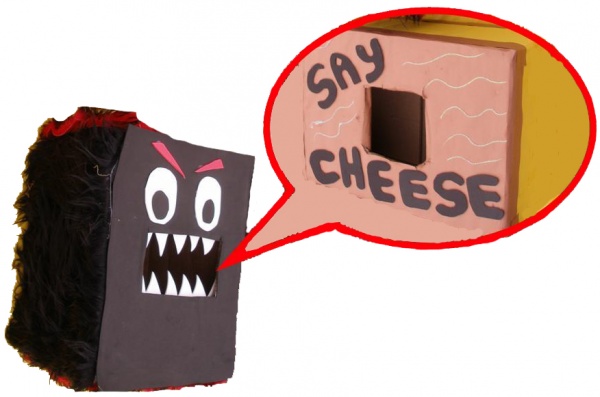 "Don't you miss it! Don't you miss it! Some of you people just about missed it…" [Born Under Punches; The Talking Heads]
Saturday, in the Bay Area of California, was perfect. This was mainly because the rain which was due held off one more day allowing for two cheese-oriented events to take place. At Cheese Plus in San Francisco was the Winter Artisan Cheese Fair, not only were excellent artisan cheeses being sampled, there was also the opportunity to meet four cheese book authors. Pictured are Laura Werlin, author of Cheese Essentials, Jeanette Hurt, author of The Cheeses of Wisconsin, Clark Wolf, author of American Cheeses. Not pictured is Janet Fletcher, author of Cheese & Wine.
Although I rushed from a meeting in Petaluma to San Francisco for this event, I missed seeing Janet Fletcher; she had to leave prior than my arrival. Kathy and I bought a copy of Cheese Essentials which Laura signed. I admitted to her that we had only previously been checking it out from the library. Since one of Laura's other books (yes, all four of these authors have multiple writing credits to their names) is Great Grilled Cheese, I asked if she'd be making it to the Grilled Cheese Invitational Competition in San Francisco. The Cheese Plus event had her busy enough, but her sister was to call with a report to advise if she should make it out there, late or not… So many cheese events, so little time! A major component of the Winter Artisan Cheese Fair, as I mentioned on Friday, were the tastings organized by Sheana Davis. If there's anything I'd like to get across in this post today, it is that it is NOT too late to get to the Sonoma Valley Cheese Conference, which is still happening today and tomorrow [Mon. & Tues. Feb. 23rd and 24th, 2009]. Don't you miss it!
Grilled Cheese Insanity
Due to attending the event at Cheese Plus (which, as with all of their events, was wonderful), I was late getting to Mission Dolores Park to witness the Grilled Cheese Invitational Competition. Kathy headed to a friend's "High Tea" birthday party, and I caught the very end of the event. Although ballots had just stopped being excepted when I arrived, enthusiastic throngs of people were still there waiting for the official results. 
The mood of it all was a little like a miniature Mardi Gras, in which people were dressed in funny costumes, drinking beer from paper bags, and clamoring for attention… A $2 (suggested donation)
wristband gave you the right to judge the grilled cheese offerings, but as there were not enough for everyone in attendance, it was those who begged, pleaded and showed spirited enthusiasm that were rewarded with a piece to try and the right to then fill out an "official sammich ballot." I witnessed the tail end of this when I arrived, and although I didn't see exposed body parts, you'd think the crowds were pleading for Mardi Gras beads, not grilled cheese sandwiches. Too late to even get a photograph of any of the sandwiches, I did overhear someone saying about the piece they were trying; "It's grilled cheese, avocado and Vegemite. It's awful!" I guess that was in the "non-traditional" category. Looks like it was a fun event, one that attracted large groups of competitors and friends… maybe next year. Meanwhile, so many other cheese events not to miss.