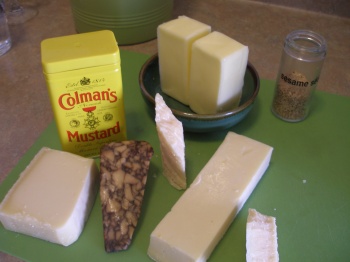 Here's another recipe that I use when I have too much cheese in the fridge (besides the Formage Fort recipe by Jacques Pépin which you can find on this prior posting).
This recipe is best/designed for Cheddar cheeses, but can use almost any combination of semi-hard, and/or semi-soft cheeses. Today's batch of Cheese Biscuit Cookies is a combination of New York Sharp Cheddar Cheese, Cheddar infused with Port-style Beer (thanks Randy and Annie!), some cave-aged Gruyère, and some Parmesan.  
…Kathy likes to tell people that at any given moment we have anywhere between 7 to 20 types of cheese in our fridge. Although this is primarily true, sometimes I need to look through them all, and clean out the fridge. I find what hasn't been eaten, what's been forgotten behind jars of condiments, and salvage what I can. REMEMBER; one of the best rules of thumb when buying cheese is to only buy as much as you know you can finish within a week. If you're like me though, recipes like the one below can help you save any cheese that you just can't part with by giving it a new life in the form of a cookie…
I've tried a vareity of recipies much like the one below, this one is still my favorite.
Cheese Biscuit Cookies
(to use as an hors d'oeuvre, or to be served with drinks)
1/2 – 1 tsp. dry mustard

Freshly ground black pepper to taste

1/2 lb. butter, softened

2 cups shredded sharp cheddar cheese, firmly packed
(or a mix of cheddar, Parmesan, Gouda, Edam, etc.)

24 pecan or walnut halves

2 Tbs. black and white sesame seeds (or just plain ol' white sesame seeds are fine)
Place the flour, salt, black pepper, dry mustard, softened butter and shredded cheese in a medium-large mixing bowl and mix well.
Taste and adjust the seasoning, if necessary. (Some people leave the butter and the cheese out at room temperature over night to soften and sharpen.)
You
can add a few grains of cayenne pepper if the cheese is not strong.
Form into marble size balls, place on a parchment lined baking sheet, and press with a fork.
Place on the top of each cheese biscuit, a pecan half, a sprinkling of sesame seeds, or leave plain.
Bake in a preheated 375 degree oven for 15-20 minutes or until lightly browned. Let cool a few minutes before removing from the baking sheet.
Extra notes
from Bryce:
This recipe is excellent and I have made it enough times to give some solid advice about assuring that they come out perfectly:
Use real butter. If you are a person that uses margarine due to habit, cost, or for diet purposes, you might as well forego making this. Be sure it is absolutely softened before attempting to mix the ingredients.

Use the best quality and sharpest cheddar cheese possible. Personally I go to either Trader Joe's, or my favorite cheese shop and buy some extra sharp white cheddar.  I like to use a mixture of cheeses. I usually make 50% of it the high quality white extra sharp cheddar, 25% extra sharp orange cheddar (it gives the biscuit more color), and 25% Gruyere. Even though the cheese may already be extra sharp, I take the recipe's advice and shred it into a bowl, cover the bowl with plastic wrap and leave it overnight to allow it to become even sharper.

Using parchment paper underneath the cookies. DO NOT use wax paper; you'll just make a waxy mess on your baking pans.

If you put these in an airtight container after they have cooled, they will last for several days.

I find these cookies to be great as a savory treat along with dirty vodka martinis.