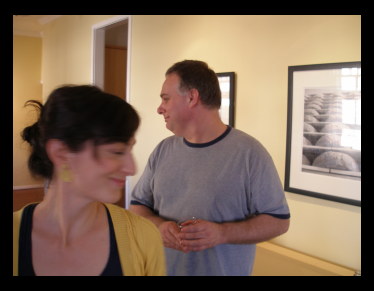 The Meet the Cheesemakers event at the Cheese School of San Francisco this past Friday night (Sept. 25th, 2009) was everything you might hope for from either a hosted cocktail party or a cheese tasting event in San Francisco. Interesting, sociable people, quality wines and beers, artisan cheese and many of the cheesemakers who produce the cheese, ready, willing and able to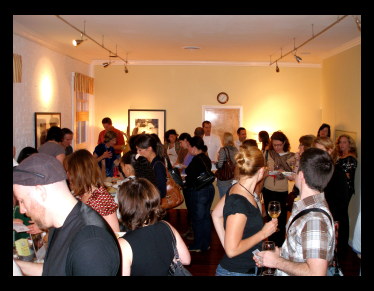 answer any and all questions.
If you were unable to attend, regrets, but I'll try to outline a little of  something of the atmosphere so that you can feel as if you were there, as well as link the dairies, creameries and other artisan products which provided the samples which were available in abundance to enjoy. I'll also include a LOT of pictures this time around… The first picture, somewhat blurry, of Sara Vivenzio (founder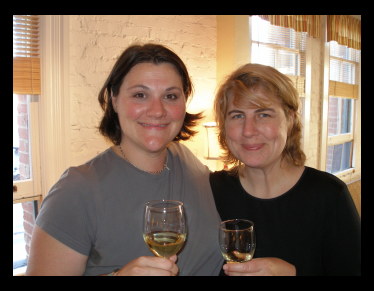 and director of the Cheese School) and Gordon Edgar (professional cheesemonger extraordinaire) captures, I feel, some of the fun and camaraderie that Guild members share. You'll also notice a few pictures with Lenny Rice (co-author of the book "Fondue" which is one of Kathy's and my favorites); she helped organize the event, and to all the others who worked hard to make this happen, I hope to have at least included a photo…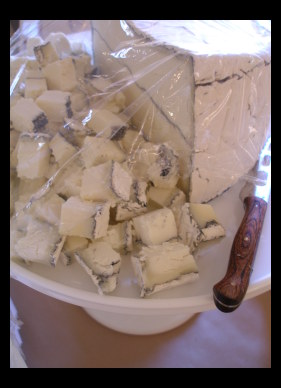 The Cheese School of San Francisco's facility is an excellent space just downhill from North Beach as you approach the Pier 39 and Fisherman's Wharf area. Once upon a time (actually twice) I worked in this neighborhood for a dot.com company which became a two-time loser. The neighborhood, on the other hand, particularly the corner where the Cheese School resides, is quite nice; far enough away from both the tourists and North Beach to have its own feel. A steep  flight of stairs (typical for San Francisco two-story buildings) brings visitors to the well appointed classroom and office space which are adorned with beautiful cheese-related photography. For cheese lovers, it is like a nearly hidden gem in SF, one that needs to be experienced. This is the second time I've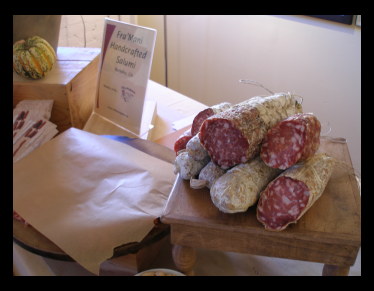 had the privilege to attend this event (this time volunteering for the California Artisan Cheese Guild), and just like last time, the attendees were of every walk of life and level of cheese appreciation. "All I know about cheese, is Cheese Whiz," boasted one gentleman early in the evening (I'm certain his horizon has expanded insurmountably), whereas others have been taking classes on cheesemaking from the Cheese School. One such couple that I met, both blog about their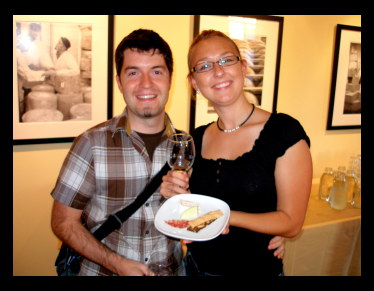 lives, food and, when it intersects; cheese as well. I encourage you to take a look at both Justin and Stephanie's blogs by clicking on their names (I have pointed Stephanie's link directly to her/their most recent cheese making experience). Also in the realm of cheese and blogging, and in attendance, was Colleen Levine of Cheese + Champagne, which I was unaware of until only about a week ago (I obviously haven't been googling cheese enough as of late). She and her friend have been; "tasting our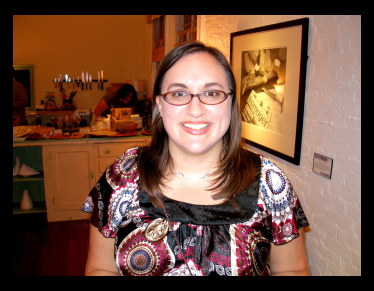 way through the Wine Spectator '100 Great Cheeses' list…" all the while, doing an amazing job blogging about it. Colleen rushed off a plane to make it to the last third of the Meet the Cheesemakers event (she had flown into town for a blogging conference).
What about the cheese, Bryce?!?
Sorry, "Inner-Cheese Voice"; this time I'm going to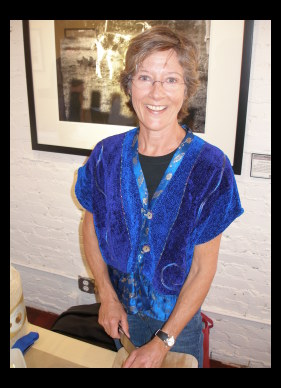 allow the links of all the places involved speak for themselves (below), with the exception of one cheese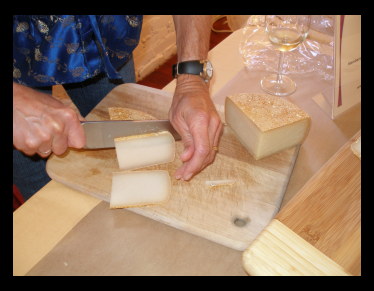 that was new to me, a new-comer to the Guild, Marcia Barinaga of Barinaga Ranch joins alongside quality sheep's milk cheeses which we're so fortunate to have in California. Her four to five pound Baserri tomme, was a wonderful taste surprise to me due to the slightly nutty flavor it had… but enough on that particular cheese until I can really sit down with a large piece someday soon. Meanwhile, here is what I hope is a complete list of every place which was represented:
Barinaga Ranch
Cowgirl Creamery
Cypress Grove Chevre
Laura Chennel Goat Cheese
Fiscalini Farmstead Cheese
Fra' Mani Handcrafted Salumi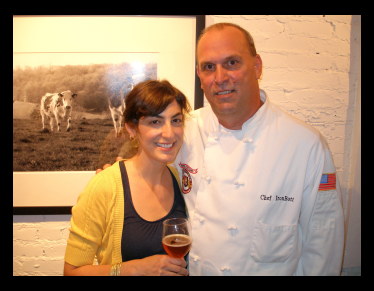 Rustic Bakery
Redwood Hill Farm
Shamrock Artisan Goat Cheese
Valckenberg – The Riesling Source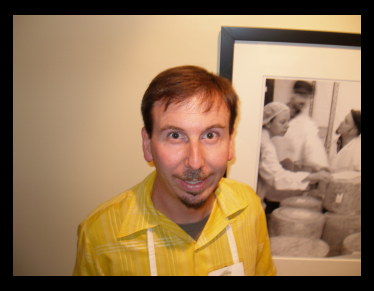 That last link, Valckenberg, was also an incredible part of the evening; importers of fine German wines, wines that you typically wouldn't be able to find, but thanks to Valckenberg, were availible at the event.
Not to put too fine of a point on it, but I'm going to also put some photos of people who attended. If you stumble upon yourself here, thanks for attending!