I've been very fortunate to be able to have friends in my life with which time and distance are never a factor. One such friend that I have is thanks to an exchange program that my high school German teacher had facilitated. Jochen, his wife Nicole and their daughter Chiara live in Bad Nauheim, Germany; a home away from home that both Kathy and I are fortunate to visit on occasion. I've known Jochen and his entire family for
(gulp) just over 20 years now.
Recently I haven't been blogging, primarily 'cause life's been getting in the way, but here it is, six o'clock am, on a Sunday morning and both Kathy and I are wide awake, still adjusting to the time change. Our trip will be regretfully short, but we'll be spending it all with excellent friends such as Jochen and Nicole.
"Um, Bryce, Cheese?!"
Sorry, "Inner-Cheese Voice," was just setting up some context for the fantastic meal we had last night. Nicole hails from Switzerland, not far outside of Zurich and she had just been back to visit her parents before our arrival here. Knowing of my cheese obsession, she picked up everything necessary for us to have Raclette, which is yet another dish perfected by the Swiss involving melted cheese.
Raclette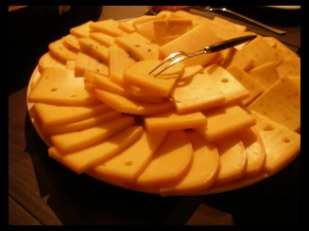 is the name of a type of cow's milk cheese, but the word also means to scrape in French. The traditional  method of serving this dish is to take a half or quarter wheel of Raclette cheese, set the cut side facing a home's hearth or kitchen fire, and the host of the home would than scrape the melted portion of the cheese onto each person's plate as it melted. It is typically a dish served in the wintertime when fresh fruits and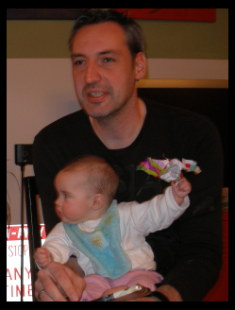 vegetables were not traditionally easy to come by due to the season. Thus small potatoes, cured meats, and pickled items are served along with the Raclette. When serving this dish to friends (we often enjoy it in California at our home too), Kathy likes to describe it as the original potato bar. Instead of the tradition hearth fire as a heating element, there are a variety of electric devices which are used nowadays. Each person has their own little non-stick pan, about the size on half a dollar bill, in which you place a piece of the Raclette cheese, and then place it under an electric heating coil. Once the cheese has melted to the desired amount, you then scrape it out of your little pan and onto your potatoes. Since each person has their own, you can pace your cheese consumption to your own taste. When heating the cheese, you can also place other desired items in there with it, such as some of the salami, prosciutto, pickled items, etc. All of this is then scraped onto your plate, overtop of your potatoes to enjoy. 
After arriving in Germany yesterday, Kathy and I have been overjoyed to finally meet Jochen's nieces; the twins Daria and Livia. They are the daughters of Sascha and Jochen's sister, Christina. Also we've been engrossed by the company of Jochen and Nicole's daughter Chiara, who we had met last September when she was only about six months old. She is now two years old, talking, and undeniably cute. Once all the kids were in bed, we ate late into the night sharing wine, cheese stories and the Gemutlichheit that being amongst good friends provides.
More about Germany and any/all cheeses we enjoy while here as I have time to write.