Whether you happen to subscribe  to Sunset Magazine or not, if you live anywhere near their offices in Menlo Park, CA (roughly about 40 minute's drive south, and a little east, of San Francisco), I can't recommend their "Celebration Weekend" more highly. It is happening THIS weekend (Saturday and Sunday, the 6th and 7th of June, 2009 from 10am to 5pm both days). Yeah, it costs something to get in, specifically $15 for adults, but as Kathy said of last year's; "I got so much free stuff; magazines, cookbooks, chef demonstrations, products, etc. that it was definitely worth more than the $15!"   …but one of the best reasons to attend? Cheese of course! Cheesemakers and members of the California Artisan Cheese Guild, will be in attendance again this year sampling some of the best that California has to offer. Yep, that includes me (Sunday morning), helping out in any way that I can. Meanwhile, Kathy's already looking at the schedule to see which booths, demonstrations and entertainment we shouldn't miss.
Here's Sunset's information about this year's (2009) event: CLICK HERE
…and here is my write-up of what it was like last year when it was new to me: CLICK HERE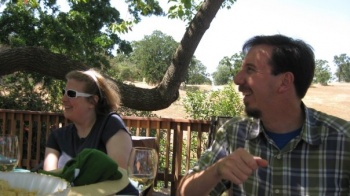 Also this weekend, Kathy and I will be fortunate to meet another cheese blogger; from down under. Susan, the blogger behind "Something to Nibble On" and a friend of hers will be taking a short whirlwind visit of San Francisco, and we've all agreed to meet up. Cheese bloggers of the world unite! 
…more on this, and the Sunset Weekend after they have happened; meanwhile let me know what cheeses you, dear reader, have been enjoying. Me, I've been eating cheese, but doing a lot of IT (Information Technology) job searching lately (let me know if you know of anything!). Hope to see everyone enjoying cheese in Menlo Park this weekend.