So, you live in/near San Francisco and you've got a date, or a significant other, or a spouse, or a friend, or even a parent, AND you love cheese…where are you going to take them so that you can share your love of cheese, be able to SAMPLE a lot of amazing artisan cheese, have a great time even try some beer and wine too? A restaurant? Sure, but will you be able to turn to your neighbor and and openly discuss the cheese you just tried with them without them looking at you like you're crazy? Not likely. Equally, are you going to be able to turn to the person handing you the cheese and ask them in-depth questions about the cheese and learn that they are the cheese maker themselves? Also not very likely!    There are, however, opportunities where you can do exactly this,  and it is time once again.
Meet the Cheesemakers - The Annual California Artisan Cheese Guild event at the Cheese School of San Francisco.
September 25th, 2009 from 6pm until 9pm
 2155 Powell St. (at Francisco) in San Francisco, CA
MAKE A RESERVATION, however, 'cause this is a very popular event. As described by The Tablehopper e-newsletter of Sept. 8 (thanks Gordon);
~THE CHEESE SCHOOL OF SAN FRANCISCO~ is hosting a special evening and fundraiser for the California Artisan Cheese Guild called Meet the Cheesemakers on Friday September 25th. The event will be in a cocktail party format, with a selection of cheeses, wines, and accompaniments. Guests will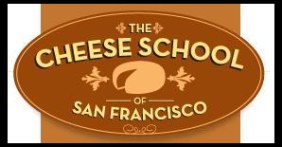 be able to mix and mingle with several of California's most celebrated cheesemakers (like the makers of Humboldt Fog and Cowgirl Creamery) during an intimate tasting where artisans will share their very best standbys as well as new creations. $35 per person. Advance registration is required. Call for more information or to make reservations at 415-346-7530. The event is from 6pm–9pm. 2155 Powell St. at Francisco.
 Hosted by the CACG and The Cheese School
Although this is an excellent description, I cannot stress how great this cocktail party is due to the incredible atmosphere at the cheese school, the cheesemakers on hand and all the great people there to enjoy the cheese, wine and beer samplings. Yours truly will be volunteering, so say hello if you make it!