Culture magazine, the cheese quarterly, is well, almost pornographic. At least to those of us who love cheese. They, the wonderful editors and publishers, know it too; they include a cheese centerfold in each issue. Since I have been blogging, I take a lot more photos then I used to, and try to always remember to bring our camera around with me, 'cause you never know when you might run into some cheese… Now if you flip through our snapshots on our computer, the number of shots which are cheese is starting to approach that of people…
You were saying something relevant about cheese, Bryce?!?
Yes, sorry "Inner-Cheese Voice"! I was. Culture magazine; like an indulgent guilty secret… a thick quarterly meant to be looked at again and again, and unlike Playboy Magazine in the 1970's  ("I read it for the articles!"), you can leave Culture out on your coffee table without the risk of reproach. This is the first time I have tried one of the magazine's recipes, and I tried it in part because I had, on-hand, the two primary ingredients; potatoes and Comté. Comté is a French cheese which has a huge production, but don't get the wrong idea; it is highly regulated by the AOC (Appellation d'origine contrôlée). Without going into a history of the AOC (my inner-cheese voice is already tapping its toe with impatience), let's cut to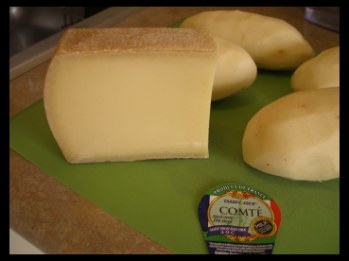 the quick and say that it guarantees that it has been made in a specific region of France (mountainous region of the Jura in this case), and that it meets and/or exceeds specific high quality conditions to earn it the AOC label of quality assurance. Can you imagine what it would be like if American cheese manufactures were required to attest to where their milk is from along with where their cheese is actually made? This immediately brings to mind the huge "mozzarella" cheese manufacturer in Roswell, New Mexico that I had wanted to visit. But to Comté its self; it is not unlike Gruyère, but tends to be less nuttier, and slightly more sweet in taste. Fact is, when the AOC grades the quality of this cheese, if it doesn't meet certain specifications, then it is sold as a Gruyère. Made from raw cow's milk, it is aged at least 90 days, and is formed into 100 pound wheels. It takes 140 gallons to make one wheel of Comté (that's about what 30 cows can produce in a day!).
Our good friends Anna and Jeff came over for a combined effort dinner and board games, and since we were going to be playing Clue, they brought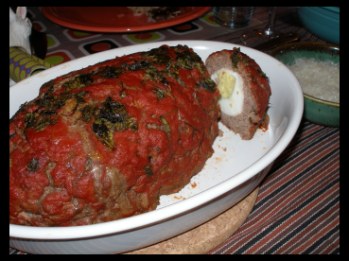 "Mystery Meatloaf" (the photo should reveal the concealed mystery). They grabbed it off the web from the Food Network, and it was pretty tasty. Kathy made a side dish of spinach with garlic, accompanied by freshly grated Italian Parmesan that we had in the fridge. I had been wanting to do some baking, so I made a two-layer chocolate cake that involved stout beer and coffee (was in the latest Bon Appétit), and the simple, and delicious, Potato and Comté Galette. Thanks to the kind folks at Culture magazine, I've been given permission to reprint the recipe here on Canyon of Cheese (below), but if you're ready for a lot of in-depth cheese articles, information and recipes, I can't recommend the magazine more highly.


Jeff and Anna are seen above turning Japanese and playing the 1990's board game, NOTEability.
 


POTATO AND COMTE GALETTE
Reprinted with permission from Culture magazine. Directly copied out of Autumn 09, Volume 1 Issue 4 page 81
To preserve the natural starch in the potatoes, do not soak them in water. To prevent darkening, use the potatoes immediately after they've been peeled and shredded. The coarse shredding blade attachment of a food processor will make fast work of preparing the potatoes.
Makes 6 to 8 Servings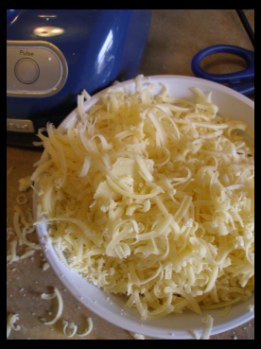 2 tablespoons unsalted butter, melted
2 pounds Yukon Gold Potatoes, peeled and cut into chunks
1 ½ teaspoons coarse salt
Freshly ground black pepper
1 ½ cups coarsely shredded Comté.
Heat the oven to 450°F. Set a 9-inch cast-iron skillet over low heat and melt the butter. Transfer half of the melted butter to a small bowl. Brush the remaining butter evenly along the bottom and up the sides of the pan. Keep warm over low heat.
Coarsely shred the potatoes and transfer to a large bowl. Workings quickly, make an even layer in skillet using about one-third of the shredded potatoes. Sprinkle with ½
teaspoon of the salt, a grinding of black pepper, and a light grating of nutmeg. Top with one-third of the cheese. Layer with another one-third of the potatoes. Drizzle with reserved melted butter and press down on the potatoes with the back of the spatula. Sprinkle the remaining ½ teaspoon salt, a grinding of black pepper, and a light grating of nutmeg. Top with an even layer of the remaining cheese.
Set the skillet on top of the stove over medium heat. Cook about 10 minutes, until the potatoes sizzle and the edges turn brown.
Transfer the skillet to the oven and bake 25 minutes, or until the cheese is golden brown and the potatoes are tender when tested with the tip of a knife. Remove from the oven and let stand 10 minutes. Cut into wedges, and serve hot.