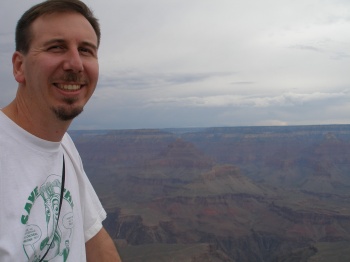 Once again back in the Bay Area of California after a wonderful 10 day vacation.
Kathy and I drove a total of 3,383 miles, averaging 45.5 mpg! [love our hybrid automobile] A quick overview of some of the places we went; Grand Canyon, Monument Valley, Four Corners Monument, Santa Fe, Roswell, Carlsbad Caverns, Cloudcroft, White Sands, Silver City, Tucson, Phoenix, San Diego, Huntington Beach… and plenty of places in-between.
That's great Bryce; what about the cheese?
Didn't forget the cheese, in fact, kept a keen eye out for it. Having done as much research as I could before our trip, I discovered two things; there's several farmstead goat cheeses in New Mexico, AND, Roswell (yeah, the town of "Area 51" alien fame) boasts having the largest manufacturing plant of domestic Mozzarella cheese in the nation, and perhaps even the world.
I'd like to start by talking about Roswell and the Mozzarella. Leprino Foods owns the plant nowadays (see linked article above for details), and I'm certain that without knowing it, I must have had their cheese at some point or another. This is a mass-produced cheese, however, and although I'm certain that the cheese works fine for general purposes (American-style pizza, for example), I doubt very much that anyone buys Leprino's Mozzarella for eat-at-home-and-savor-the-taste reasons. I was, however, very interested to see the plant in Roswell (much more interested in cheese then any of the local alien lore, which we skipped), but my kind e-mailed question to Leprino's corporate site asking if it was possible to view the plant, or talk to anyone who works there, was met with a terse response stating that not only were "reporters" not allowed at the plant, but their practices and recipes are not made available to anyone. This seems much more mysterious than anything that Roswell could offer up in the way of aliens and/or Area 51. Whether this is due to safety and sanitary concerns, a desire to keep their mass-production methods a secret and/or the fact that their cheese is more of a "product" than a food, is any one's guess. I'm certainly not here to vilify the largest producer of Mozzarella cheese in the United States, but I'm also certainly going to be watching for their label when at the store.
So, if that didn't work out, what did?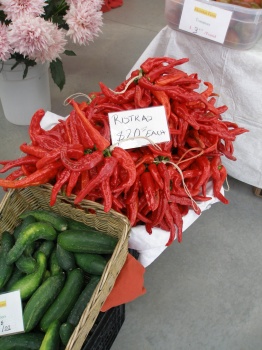 The Farmer's Market in Santa Fe. THAT was a gold-mine of wonderful foods. Our journey was planned partially around the fact that we'd get to go to the Tuesday morning market, which happened to have just moved into its new spot at the New Santa Fe Railyard. The indoor/outdoor home to the market was bursting with color; flowers, fruits and vegetables all calling out to us… I made a beeline to the single cheese stand, however, Sweetwoods Dairy of Peña Blanca, NM.
Sweetwoods Dairy produces several varieties of raw goat and sheep milk cheeses (most of which were aged over 60 days). At this time their growing business has only been offering their cheeses at farmer's markets and some limited distribution, but according to the young man who sold us our cheese, they'll soon have a web-presence as well.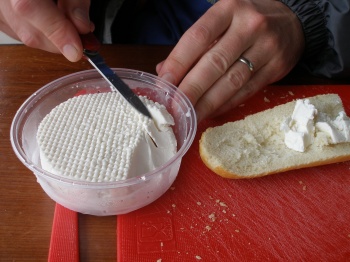 The cheese I had bought from them that I was most excited about was their "New Mexico's old fashioned queso de cabra."  This fresh raw milk goat cheese (replete with "raw milk" warnings at the cheese table), is a fresh cheese (aged a day or two at most), and has a consistency like a drained cottage cheese, or a loose tofu. The taste? Amazing! Like a clear, fresh canvass to accent with other tastes, this cheese added an inviting texture to anything you added to it. It can be used for dessert OR savory meals. Since we were in New Mexico, which is known for its chiles,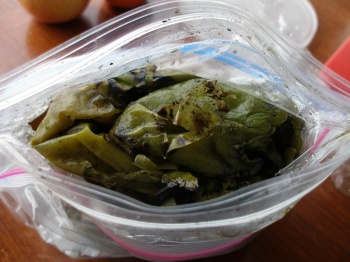 we also purchased some freshly fire-roasted local green chiles. These lasted us for days; we paired the chiles with anything and everything during several picnic lunches. The best, however, was the chiles, bread, and the Queso de Cabra. That cheese lasted only for one meal, which was our picnic dinner at Carlsbad Caverns prior the Bat Flight out of the natural cave entrance.
I have more to say about our trip, and the cheese we encountered, but for now I leave you with just a few images and the thought of the fresh Queso de Cabra we got to enjoy from Sweetwoods Dairy.