Two quick things (and a recipe):
1) Bellwether Farms has a recipe contest for Crème Fraîche.
2) This Saturday Cheese Plus is having its 5th Annual Fall Harvest Artisan Food Festival.
Sure, you might be asking yourself; what is Crème Fraîche? It is not, technically, a cheese. Before someone who does believe it is a cheese yells at me, I'd like to point out that I am determining this after reading several of my cheese books, and offer two main reasons that I am in the; "not a cheese cheese," camp; 1) there is no separation of curds and whey, and 2) it is closely related to sour cream, and I just can't bring myself to call sour cream a cheese either. What it is, however, is nothing short of wonderful, and Bellwether has some of the best that I have tried in California. Crafted artisan dairy foods in which the quality of the milk is considered with the utmost concern is going to produce some of the best possible cheese (or Créme Fraîche in this case). PLUS just as Bellwether's website informs us about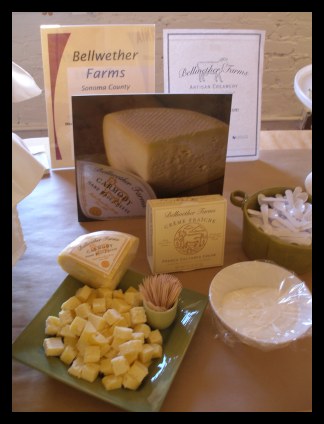 Créme Fraîche, it;  "never curdles while cooking." In Europe it is difficult to locate the sour cream we are familiar with in the U.S. What is more easily found, however are products such as Quark and Crème Fraîche [and in Germany; Schmand, which is closest to American sour cream). To describe the subtleties between all of these various milk products (and heck; throw in cream cheese, yogurt, and buttermilk into the mix; why not?) would be a somewhat boring description of differences between preparation methods, consistencies and gradients of sweet, to sour, to tart tastes. Tell you what; go get some for yourself and I think you'll find that Crème Fraîche is something that you could/would eat with a spoon given the chance, but it works best off-set with the taste of something else such as fresh fruit and/or chocolate. Below is a recipe that Kathy makes for us on occasion from a French cookbook we have. Créme Fraîche is used as a topping on it. If you, however, are excellent at coming up with recipes, then you should enter Bellwether Farms recipie contest for Crème Fraîche. You have until December 1st, 2009, and you may win $100 towards Bellwether products. Here's the details at their website (until 12/1/09).
NUMBER 2: Don't know about you, but I am on the e-mail list for Cheese Plus in San Francisco. This Saturday (Oct. 21st, 2009) is their 5th Annual Fall Harvest Artisan Food Festival. What does this have to do with cheese? PLENTY! Can't believe it has been a year, but here's the Canyon of Cheese post about last year's. Can't recommend this event more heatedly: chance to try some excellent cheese, gourmet products, hear some live music, and heck; bring your knives and have them sharpened while you look around.
OK; the recipe (with no baking!):
Bitter Chocolate Mousse (Mousse au Chocolat Amer)
Use the darkest chocolate you can find for the best and most intense chocolate flavor.
Serves 8
8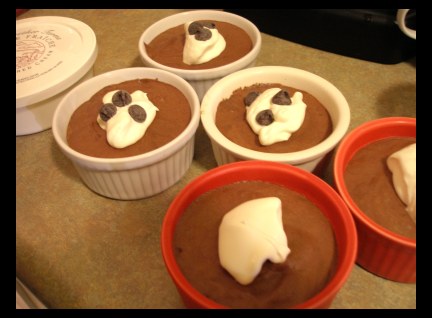 ounces semisweet chocolate, chopped
4 tbsp water
2 tbsp orange liqueur or brandy
2 tbsp unsalted butter, cut into small pieces
4 eggs, separated
6 tbsp heavy cream
¼ tsp cream of tartar
3 tbsp superfine sugar
Crème fraîche or sour cream and chocolate curls, to decorate
1. Place the chocolate and water in a heavy saucepan. Melt over low heat, stirring until smooth. Remove the pan from the heat and whisk in the liqueur and butter.
2. With an electric mixer, beat the egg yolks for 2-3 minutes until thick and creamy, then slowly beat into the melted chocolate until well blended. Set aside.
3. Whip the cream until soft peaks form and stir a spoonful into the chocolate mixture to lighten it. Fold in the remaining cream.
4. In a clean grease free bowl, using an electric mixer, beat the egg whites slowly until frothy. Add the cream of tartar, increase the speed and continue beating until they form soft peaks. Gradually sprinkle over the sugar and continue beating until the whites and stiff and glossy.
5. Using a rubber spatula or large metal spoon, stir a quarter of the egg whites into the chocolate mixture, then gently fold in the remaining whites, cutting down to the bottom, along the sides and up to the top in a semicircular motion until they are just combined. (Don't worry about a few white streaks.) Gently spoon into an 8 cup dish or into eight individual dishes. Chill for at least 2 hours until set and chilled.
6. Spoon a little crème fraîche or sour cream over the mousse and decorate with chocolate curls.