While we traveled to, in, and around New Mexico on our vacation, I think I had expected to encounter a lot more Mexican-style cheeses than we actually did. Though I had done my best to seek local cheeses out, we did not encounter as many as I had anticipated. It could be that in warmer climates there is less cheese consumption, but as I had mentioned in my last posting, New Mexico does boast about processing a LOT of milk into cheese in their state.
As you can see in the Google Map image above (click on it for a new window with a larger view; then make the new window full-screen), we really went to a lot of places in the Southwest. The list left of the map is not complete of all the stops we made, but it is the overall route we took. One of our major destinations, and where we stayed the longest, was Santa Fe, New Mexico. Friends of ours moved there from the Bay Area of California, so it was great to get their perspective of both Santa Fe and the state of New Mexico.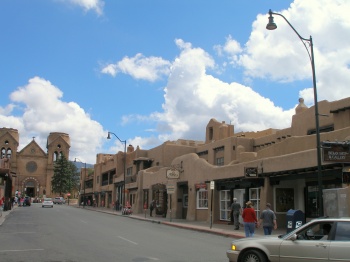 Santa Fe is a beautiful town, and despite being the state's capital, it only has a population of 73,000. This makes it both picturesque and friendly. For many years it has been an attractive mecca for artists. Our friends Anne and Ethaan, in fact, are an actor and artist respectively. Yes, they also have day jobs, but their love of, and talent with the arts affords them a very culturally rich life in Santa Fe.
Aside from any and all touristy highlights of the town that we took in, we also had the chance to relax at the Ten Thousand Waves spa, treating ourselves for all the hours of driving we had already put in by the time we arrived in Santa Fe.
Yeah, yeah, yeah Bryce; culture, art, architecture… where's the cheese?!?
Well, as I had mentioned, I was surprised to find less cheese then I'd have liked during our travels. When there was cheese, it was inevitably good, however. We'd often heard of the pride that New Mexico has for its Mexican food and local cuisine. In brief, the major distinction boils down to is the chiles. Honestly. The fact that they are locally cultivated adds an unbelievable freshness to New Mexican cuisine, causing a toe-curling zing to just about every dish.
Ethaan and Anne brought us to a New Mexican restaurant they'd been wanting to try; Maria's New Mexican Kitchen. The multi-room sprawling restaurant was an excellent sample of New Mexican cuisine done right. To start with, there was a menu just for margaritas and tequilas which was longer than the food menu (four densely packed pages worth). We ordered a variety of dishes, all excellent
(look at the picture of the red chile coated pork that Kathy had). Surprisingly we were served only one type of cheese during the meal. An excellent aged Cheddar was used for each dish which integrated cheese. I half expected to find a dish I have enjoyed in Mexico to be on the menu; melted cheese with chorizo, but with so many other excellent local recipes, I didn't miss it.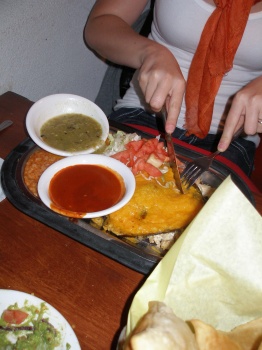 Another in the know New Mexican practice is to know how to order your salsa; Green, Red or "Christmas" in which you get to enjoy both.
I might be able to squeeze one more posting about cheese and our trip to New Mexico in the next few days, but don't hold your breath. Otherwise, I'll continue my musings on cheese, as before, now that I am back in the Bay Area of California. Meanwhile please enjoy the pictures from the trip and our visit with friends.