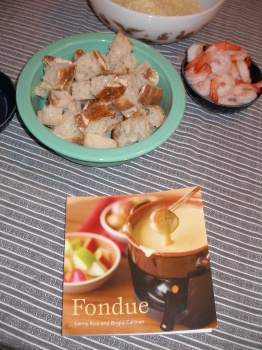 Sure, I already own at least 12 fondue books (perhaps more, but I lost count). Kathy, however, brought me home a new one (published in 2007), and I'm really pleased that she did. Named simply; "Fondue", this cook book is excellent since it is distinguishes itself by having NEW fondue recipes. The book not only is published in Berkeley, but is written by Lenny Rice & Brigid Callinan, who are both local to California's Bay Area. Lenny Rice happens to be the head cheesemonger at Cowgirl Creamery's Tomales Bay Foods. It makes me wonder if perhaps we've been in the same room for a cheese event or two. I hope that at some point we will be though, so that I can thank her in person for this wonderful new fondue book. Although "local" in many ways, this book brings to mind that not everyone is living here; Rice & Callinan provide an excellent resource section so that you'll know where/how to order cheeses and ingredients which you might not find in your area. Another great feature of this book is that with each of the 50+ recipes are "Cheese Notes" side-bars which take the time to explain a little something about the cheese, or at the very least, some historic trivia about the cheeses. Informative and fun to read, I look forward to trying (over time) just about every recipe in the book.
Which fondue recipe to start with, that was the real challenge. It happened to have been Kathy's and my anniversary this past Friday. After checking in with Kathy to be sure that fondue would be OK for dinner (we also celebrated over the weekend, even attending a Chicken Festival), I decided to go with a fondue which utilized a sheep's milk cheese. Named; "Pyrenees Pimentón", this sheep milk cheese fondue called for a pound of P'tit Basque or Ossau-Iraty, or; "other semi-firm sheep's milk cheese, rind discarded and grated." I'd seen P'tit Basque, but had never picked up a round of it before, now I had a perfect opportunity. I got off work early enough to walk from BART (Bay Area Rapid Transit) to the Cheese Board in Berkeley. I've said before that any and all cheese stores and cheese counters in the Bay Area offer their own feel, selection, expertise and cheeses, but for me, the Cheese Board is kind of the "El Dorado" of cheese for me (except cheese instead of gold, naturally). When at a cheese shop I always have to remind myself a rule of thumb about buying cheese; buy only an amount that you know you can eat within a reasonable amount of time (I ended up with three cheeses anyway).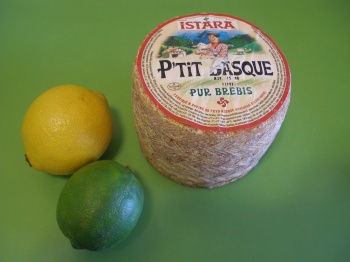 Back to P'tit Basque, however; local cheese expert/columnist Janet Fletcher has already written so eloquently about this cheese that I'd like to link you directly to her article about it here. What I was disappointed to discover, though (and, for me, after the fact), is that Fletcher regards this creamy semi-soft cheese as a "starter" (for beginners) in the Pantheon of semi-soft sheep cheeses. She suggests Ossau-Iraty (which was also suggested by the fondue book's recipe) for a "sheepier" taste. Well, that will have to wait until the second time we make this fondue, and with so many other recipes in the same book to work through, it might take awhile.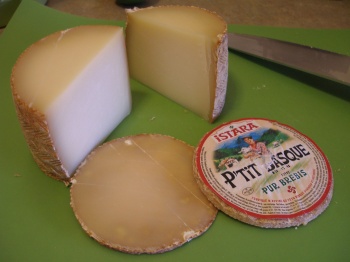 The other key ingredient was the Pimentón, which is basically a smoked paprika. The fondue had a dry white wine base to it, garlic, the Pimentón, some ground cumin, some flower, and some sherry. I'd like to copy the recipe here for you, and I might at a later time, but since I hope to meet Lenny Rice some day, I think I'd best get her permission to reprint it. If you see it at the end of this posting, then I did indeed get the permission granted. The fondue was wonderful.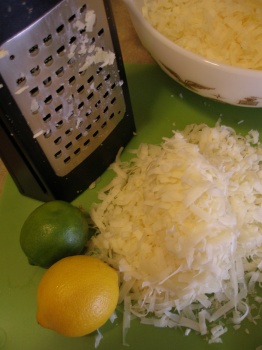 The creaminess of the cheese paired so well with the distinct smokey flavor of the Pimentón… it felt as if the taste rolled across your tongue in three stages. The only criticism we had was that both Kathy and I wished the fondue had some kind of bite to it; some kind of last spiciness to take you slightly by surprise. I wonder if I had used Ossau-Iraty instead, if there would have been a bit more of the "snap" I was looking for.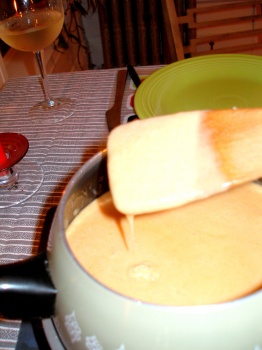 We ate the fondue with bread (for tips on cutting bread properly for fondue, re-read my earlier posting; "Glarner Fondue with Kat"), and cooked shrimp. Drank the remainder of the sauvignon blanc which was used in the fondue, and although Kathy brought home some sorbet for dessert, we were too full to even consider it (and I'll admit; I most likely ate three-fourths of that pot of fondue).
You said you bought THREE cheeses at the Cheese Board. What about the other two?
Yes, ever-present inner cheese voice, I did get three cheeses. You'll just have to wait until I have the chance to discuss the other two… Meanwhile, if you have comments or questions about this fondue or anything cheesy, use the comment section below!