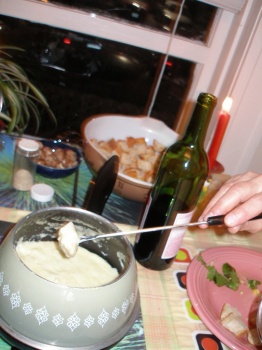 To the extent that I love fondue will take hundreds of posts to exemplify. We were fortunate to have our friend Kat (the independent film maker I had mentioned in the last post) drop over for fondue Thursday night. Any chance I have to make fondue, I take. It is much easier than many people imagine.
With this post, I'd like to concentrate specifically on how to make this particular fondue, the two cheeses it uses, and a few words on cutting bread for fondue.
Glarner Fondue hails from the Swiss canton (state) of Glarus. Each individual area Switzerland has their own (or several) fondue recipes which either utilize the cheeses which are locally produced, or represent the taste preferences specific to the culture of the geographic and social area. Two of the distinctive elements of Glarner Fondue is that it has a milk base, and utilizes the hard cow-milk herb cheese,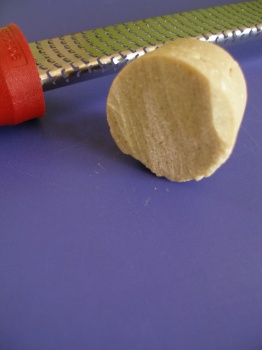 Sapsago (also known as Schabziger). Sapsago is made from a combination of skim milk and whole milk (sometimes buttermilk) and is flavored with a clover, melilot, which grows at the altitude where the cow herds graze. It's not always the easiest cheese to find in the states unless you have a good cheese shop. I used to be able to get one "stockli" (the cone-like shape it possesses) for about $1.70 at Country Cheese in San Francisco, but now I can only find it for $4 each at the Cheese Board in Berkeley. Only 1/3 of a stockli is needed per fondue, so we occasionally use some finely shredded and mixed into butter as a spread. Sapsago can basically only be eaten shredded; it is a very hard cheese and the flavor is very intense.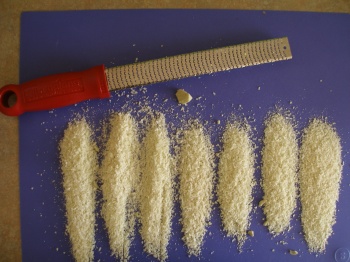 Gruyère is by far both Kathy's and my favorite Swiss cheese. It is versatile, there are several varieties (typically by age, and/or where it was produced) and nowadays you can find it easily. The small wrapped piece you see in the picture was bought at Trader Joe's, and is cave aged. It is our belief that you should always have some on hand in your fridge. Gruyère hails from the canton of Fribourg.
Our recipe for Glarner Fondue comes directly from the book:
Fondues from Around the World by Eva and Ulrich Klever –

 
Ingredients:
2 Tablespoons Butter 
2 Tablespoons Flower
1 to 1½  cups (1/4 to 3/8 l) milk
pinch salt
8 ounces (225 g) Gruyère cheese
¼ cup grated Sapsago
1/3 cup (8 cl) dry white wine
freshly ground white pepper
How to prepare:
Melt butter in fondue pot. Stir in flour. Gradually blend in milk and cook, stirring, until thick. Grate Gruyère and stir into sauce until melted. Gradually mix in Sapsago and wine. Season lightly with pepper. Keep fondue warm over a low flame.
The drier the white wine you use, the better, and if you can't get white pepper (I use my spice-only coffee grinder to grind white pepper), you can use black, but I don't recommend it. White pepper is the seed of a peppercorn. The shrived black part of a black pepper is the fruit of the peppercorn, dried out. It is also the part which gives the sharp/hot taste to pepper.
 Now a few words about cutting bread for Swiss Cheese Fondues -
I always warn our fondue guests that they will burn some part of their mouth or tongue during the evening if they aren't careful, and I also tell them how to avoid it. It is necessary for every piece of bread you spear to have a piece of crust on it so that the fondue fork have something to hold fast on. Naturally the bread you choose makes a big difference. I tend to use baguettes,
bought fresh the day I'll be making the fondue. Cut your baguette into slices of about 1/4 to 1/3rd inch thickness. Now the dilemma; if the pieces are too big, then you're sure to have your guests not only burning themselves, but also trying to chew something which is too big. Cut too small, and they'll jab their fingers with the sharp fondue forks (one of the pictures illustrates too big and too small). To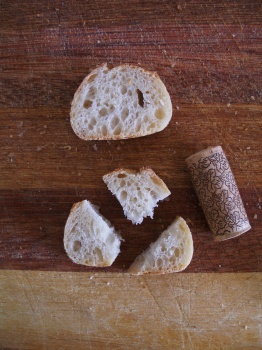 solve the problem with the baguette slices you see here, I've cut the pieces into three perfectly sized pieces.
When serving a cheese fondue, it is often wise to serve some kind of fresh chilled salad (pictured is a baby spring mix with tomatoes, shredded zucchini, corn kernels, Kalamata olive slices and chopped unsalted pistachio nuts).
For dessert, stay away from anything too heavy or that contains milk products. Kat brought us some blackberry sorbet and a dark chocolate bar.
 If you have additional questions or comments, let me know. Naturally you should expect many more fondue posts in the future…
Below. Kat (left), Nikita (the cat), Kathy (right).