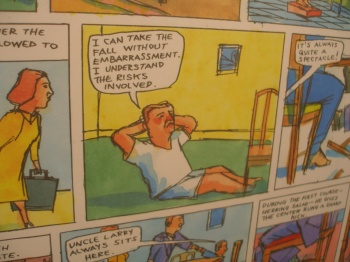 Last night Kathy and I attended an event, a conversation between one of my favorite comic artists, Ben Katchor, and Josh Kornbluth at the Jewish Community Center of San Francisco. Katchor is a nationally published (and internationally recognized) artist of comics, known by many for his earlier weekly series of strips, Julius Knipl, Real Estate Photographer. His work intelligently, and comically, focuses on many sub-conscious nuisances of urban life, creating a world which often straddles between generations, overlapping one with another. I've just realized that Katchor is one of the few living comic artists that I enjoy (other favorite, yet deceased, ones being:  Windsor McCay, James Thurber, Hergé and Charles Schultz).
…And what does this have to do with cheese?
In order to attend the event on time, Kathy and I decided to get into San Francisco early and eat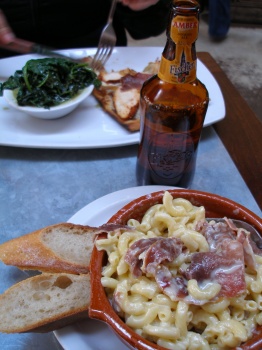 somewhere in the area. We found a place named Rigolo on California Street (in Laurel Village), which is kind of a bistro with French fare.
I'm always looking for good Macaroni and Cheese, which can be eaten as a main dish, so I was excited that it was prominently displayed on their menu as a speciality. I've become convinced that when most of your customers associate Mac & Cheese as a dish which is typically a bright fluorescent orange, and occasionally the pasta is in the shape of dinosaurs, that any home-made or restaurant version with quality cheese will seem like heaven on earth. I, however, am much more difficult to please. At home I make a mean Macaroni and Cheese that puts Rigolo's to shame (I'll copy our home recipe in some future post). Although Rigolo's recipe utilizes Fontina and Gruyère, the cheese was too much of an after-thought in the dish. Overpowering any taste of cheese
were large pieces of thickly-sliced, salty prosciutto, and some added truffle oil. Many Mac & Cheese recipies use a lot of milk, reduced down, with a scant amount of cheese added for taste. I could be wrong, but that is what I sensed was done here. Neither the Fontina or the Gruyère could be
tasted with any distiction. Despite these disparaging thoughts about the Mac & Cheese, Kathy's half-portion of a piece of pizza was perfection. Constructed on a crust made of puff pastry, it had a perfect blend of caramelized onions, Fontina, prosciutto and thinly sliced pieces of spicy chicken breast. The tastes melded together in such a perfect harmony, that we're already scheming about how to reproduce this dish at home.
Following the conversation between Katchor & Kornbluth, the JCCofSF which was hosting the talk, provided wine, coffee and deserts, and yes, cheese in their Katz Snyder Gallery (showcasing some of Katchor's work). It was a nice, unexpected and appreciated treat. Likely bought as a "party tray" at either CostCo or Safeway, the cheese offerings were some domestic Bries, Munster, colby and some smoked Gouda.
Besides continuing his work illustrating a monthly comic for the architecture magazine Metropolis, working as a full-time faculty member at the Pasron's School of Design in NYC, Katchor is also working on a book (prose) about the history of kosher dairy restaurants. The release date of the book is not yet set, but it should be a good read.
Have a favorite Mac & Cheese recipe to share, or a restaurant where you like to get it? Let us all know! Use the comment section.