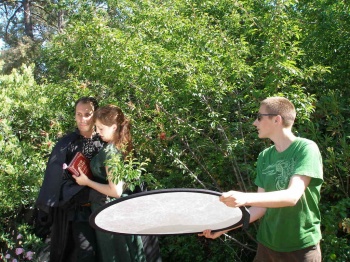 There are amazing things that you can do with cheese in cooking, and one of the simplest treats you can make for yourself is home-made Macaroni & Cheese. If you are an adult, and you are still occasionally making box-mixes of Mac. & Cheese which come with a packet of powdered neon orange "cheese" (or a Tetra Pak of bright orange glop), then let me help reform you to what it means to eat real food again.
I'm forever trying new recipes of Mac & Cheese, but the one I'm putting here is my mainstay, fall-back, recipe of Mac & Cheese that I make over and over again. Although I think it's a great recipe, I WANT to hear of your favorites! Please, please, post your favorite in the comment section and/or provide a web link so that I, and all the readers, can give it a try.
I'm also always looking for restaurants which serve amazing cheese dishes. As to restaurant's cheese plates, or "flights" of cheese, those I find often, but great cuisine heightened by using quality cheese? Let me know about your favorites from restaurants!
I often make this dish for theatre production meetings. The pictures in today's post are from Sunday  (6/8) when we had a photo shoot for our upcoming original comedy, "Pride & Succubus"
Alright. The recipe. It's simpler than I make it look; I've merely added notes, which ought to help, from the years I've been using this one. Enjoy!
Gourmet Magazine's Five Ingredient Mac & Cheese (with comments by Bryce).
Serves four adults as main dish.
Total time: hour and ten minutes.
Active time: roughly 20 minutes
Ingredients:
·         1/2 pound (half package) of elbow macaroni
·         1 can of stewed, sliced tomatoes (plain or Italian style are both fine. Fire roasted can also be nice)
·         3/4 cup heavy whipping cream
·         1/2 pound cheddar cheese, grated*
·         Salt & fresh ground pepper (yeah, yeah; these are ingredients six & seven)
 *  Cheese notes; get the sharpest, highest quality cheddar you can. DON'T EVER use pre-grated. I like extra-sharp aged white Cheddars, but I always also use some orange cheddar in the mix for a more "familiar"-looking Mac & Cheese color to satisfy cheese novices. All Cheddars which are orange are merely dyed for distinction and eye-appeal. Cheddar cheese is naturally white or cream colored. Usually I'll mix two or three cheeses. Often, a third of the cheese I use will be Gruyère. Really though, any cheddar will work, but the better the taste, and the higher the quality, are the best to make this dish really work well.
Instructions:
Preheat oven to 400 degrees.
Cook macaroni according to package instructions. Meanwhile, grate your cheese,
reserving 1/3 of it in a separate bowl. In a large mixing bowl, pour the whipping cream, and as much of the liquid from the canned tomatoes as possible. Dice the tomato slices. While dicing, attempt  to reserve as much of the liquid on your cutting mat/board as possible. Place the tomatoes and their juices into the mixing bowl.
Mix in 1/2 teaspoon salt, and 1/4 teaspoon fresh ground pepper into the bowl (I use a lot more fresh ground pepper; use to your own taste).
Once the macaroni is done, drain, and mix macaroni into the liquids and tomato mixture. Mix with a large spoon (this helps cool the macaroni before adding the cheese). Add 2/3rds of your grated cheese. Mix well. Pour into a shallow glass casserole dish (such as a lasagna pan). Top with the remaining 1/3 grated cheese. Add additional fresh ground pepper if desired. Bake in oven for 45 minutes until mixture is
bubbly and the top is getting fairly beyond golden brown.
Best served with a salad or something healthy for balance.
When we have company, or a theatre meeting, I double the recipe above.
Below is a preview of the press photo for "Pride & Succubus" which will be performed in San Francisco in August (7th – 23rd, 2008). Many thanks to Crystal Gariano (Photographer), Dana Constance (Graphic Designer; did all the photo touch-up work), and the actors Kai Morrison and Faith Aeryn [and yes, Ian, and all the Thunderbirds!] Now go get what you need to make the recipe above!