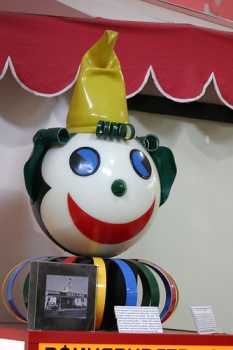 It's both ironic and awful that on the same day (yesterday) that I write about Slow Food, Kathy and I, with our friends Jeff and Anna, ended up having fast food prior to seeing a movie together.
WHY?
Well, for a few reasons. We WERE in a hurry, plus my parents recently gave me a couple free Jack-in-the-Box cards that they had received for participating in a survey (they thought we might have an opportunity to use them). Also, it was another chance to provide content for Canyon of Cheese since I was curious to see what cheese might be found on the menu.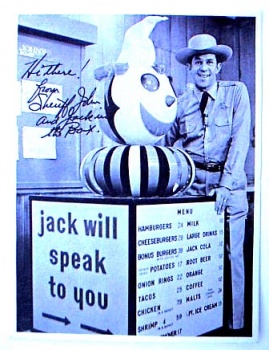 My childhood was spent in Southern California, which is kind of the birthplace of fast-food burger chains. There's an excellent chapter in the book "Fast Food Nation" which describes how automobile culture, a year-round moderate climate, and a desire for consistency combined with speed gave birth to the uniformity of fast food franchises. If you aren't familiar with Jack-in-the-Box, it is a burger franchise which originated in San Diego, California. Around the same time that other chains were having characters such as clowns and kings to attract younger customers and families, Jack-in-the-Box was already primed with its own "fun" persona. Unlike McDonald's, Jack-in-the-Box was named after its whimsical mascot (does Ronald McDonald look Scottish to you?). To further their recognition in the fast-food realm, all of their drive-throughs had Jack-in-the-boxes like the ones you see pictured here [Photo credit for the color Jack: Jenquin. Thanks for the permission!]. The speaker to place your order was in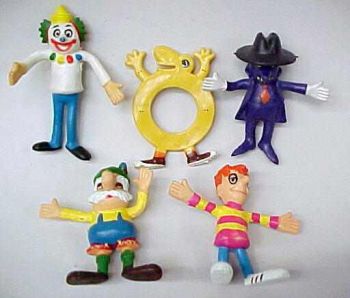 the ruff of Jack's outfit. Not to be outdone by McDonaldland's host of characters, Jack-in-the-Box developed their own in the 1970's, such as Jack, Small Fry, the Onion Ring Thing, the Hamburger Meister, the Shakes and my favorite, the Secret Sauce Agent (see video at the end of this post). In 1980, with sales falling compared to the competition, Jack-in-the-Box (or its hired marketing company) reinvented its self by "blowing up" all of the old drive-through Jacks and revamping its menu. Fourteen years later, Jack "returned" making more marketing history. Actually, the history of Jack-in-the-Box is more interesting then their food ever was or will be…
Which brings us to the food, and the cheese.
Cheese at Jack-in-the-Box seems to come in two varieties; a yellow-orange, or white.  Both are a types of processed cheese, most commonly called American Cheese. There are a few reasons that fast-food places use processed cheese, but the main two are cost and uniform melting. Many "real" cheeses don't melt well; the liquids (natural oils in particular) and solids may separate in such a way that the cheese looses its visual appeal, and/or the taste may be lost.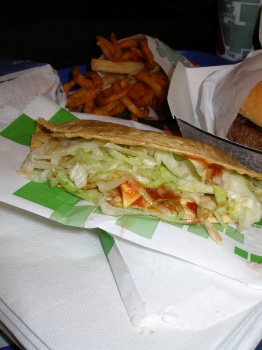 I've stated (including in my FAQs) that I'll eat processed cheese when/if it is the only choice, but I'd also like to point out that I NEVER go out of my way to have processed or "American" cheese. This time, however, I specifically choose items with cheese. I got a Jumbo Jack, with cheese, as well as a sampler of deep-fried items; Jalapeno Poppers, Mozzarella Sticks and some kind of chicken nuggets. Please note by clicking on the picture how the color, size, and shape of the items are all practically the same.
Kathy decided to get a kid's meal. A grilled-cheese sandwich, applesauce, and a chocolate milk. When she ordered, they told her they were out of applesauce, so her two healthy alternatives were fries or onion rings. Jeff went for the 2 tacos for 99 cents. Note from the picture that the tacos utilize a slice of American cheese. Anna got a "sirloin burger" (with cheese)… Kathy's grilled cheese was perhaps the blandest food I have had in months. Iceberg lettuce has more flavor then this sandwich or cheese had. As to the fried foods, again, no distinction. I had to wonder; "am I eating fried mozzarella, or chicken?"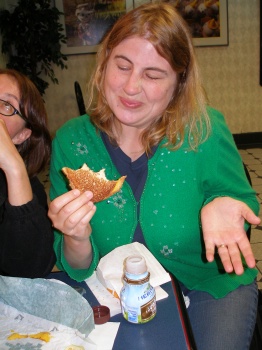 Since I tend to eat fairly healthily, I've found that fast food has an adverse effect on my stomach, and at least for a half-hour after having some it feels like there is a rock in my stomach. I think you have to build some kind of resistance or acclimation to fast food
to be able to digest it easily. The body is pretty resilient, but honestly, there's no reason for you to torture yourself (as we did) by eating fast food. Particullarly if cheese suffers in the process. Fried foods can be great, but do it right: July's Gourmet magazine arrived yesterday; here's a fantastic recipe from them for Fried Mozzarella (LINK).
DO YOU love fast food cheese? Hate it? Have a story or comment? Please use the comment section.