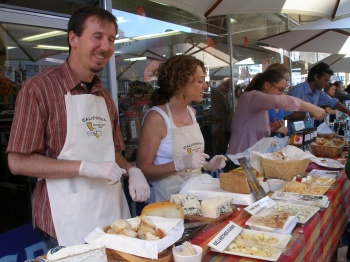 If you were unable to drop over (in San Francisco) to the Cheese Plus 4th Annual Fall Harvest Artisan Food Festival, I wish you could have. There was perfect weather on Saturday [this past Saturday; Oct. 25th, 2008] for the event, and not only were we offering up incredible cheese samples for the California Artisan Cheese Guild (CACG), there were also some other amazing artisan foods represented. Cheese Plus obviously has a large number of loyal and regular customers, but since this festival was open to the public, there were people visiting from all parts of the Bay Area (as well as from out of state/country).  There were also a lot of lucky people who merely chanced upon the event.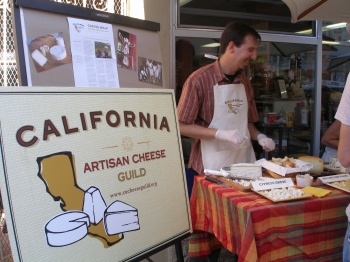 Our thanks again to Ray Bair, owner of Cheese Plus, his staff and volunteers, for gathering up such a great group of vendors and products for everyone to sample. Amongst the various artisan vendors was Chuck Siegel, founder of Charles Chocolates. I had the opportunity to speak with him as we were setting up for the event, and get an insider view of various quality chocolate operations in the bay area [I was asking for his opinion about the affect Hershey has had on Scharffen Berger Chocolate after having purchased them in 2005]. Charles Chocolates are amazing, and he was serving up freshly made confections as part of the festival. Coincidentally, the next day we were visiting with our friends Anna & Jeff and they offered us some Charles Chocolate Triple Chocolate Almonds.
Cheese, Bryce?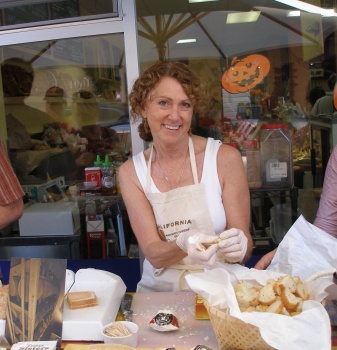 Yes, inner-cheese voice, I was getting to that… Volunteering with CACG board member Lynne Devereux, we were serving up five cheeses from Guild cheese-makers.
Original Blue from Point Reyes Farmstead Cheese Company
Truffle Tremor from Cypress Grove Chevre
Serena from Three Sisters Farmstead Cheese
Pepato from Bellwether Farms 
Fresh Chèvre from Laura Chenel Chèvre
Two of these were new to me, not having had the chance to try them before. The Pepato is made of sheep's milk and has a rich, deep taste. Scattered throughout the three and a half pound wheel, that we were serving from, are peppercorns which give the cheese a nice bite to counter-balance the rich texture, and provides the cheese with a nice snap. According to Lynne there are only two farms in California producing artisan sheep's milk cheeses. Bellwether Farms, where the cheese is produced is in the town Valley Ford, which is in the Sonoma County area of California.
The second cheese which was new to me was the Serena of Three Sisters. Days before the Harvest Festival I was an opportunity to buy a couple pounds of this wonderful cheese online at wine.woot [a website which sells wines and wine-related products, such as cheese, at discounted prices, and always with only $5 shipping], but didn't, planning instead an eventual pilgrimage to their farm in Tulare County, California. -Made of raw Jersey cow's milk, Serena is aged between twelve and eighteen months, making it a hard cheese. The wheel we had to offer samples of on Saturday was around 18 months old, and if I had to compare it to something, I'd say that it is not unlike a Parmesan, but it has a certain creamy taste not unlike a similarly aged Gouda.
Concerning serving the cheese samples;  …According to Kathy (who took all the photos for me of the event), I was beaming the entire time I was there serving up cheese to everyone. I can't say I am surprised by this comment. You have to realize that my love of cheese extends out to hoping/having others enjoy cheese too. This is one of the main points of Canyon of Cheese. Giving the opportunity to others to also know about/try cheeses which are new to them provides a real satisfaction. As an example of this, many people in the SF Bay area are already familiar with Cypress Grove's Humboldt Fog, [a soft-ripened goat milk cheese which has a thin layer of edible vegetable ash dividing the top and bottom half of the cheese. The ash gives a taste and
texture contrast to the otherwise creamy nature of the cheese.] but not Truffle Tremor. Truffle Tremor has quickly become one of my favorites that Cypress Grove produces, and they have only been making it a little over a year. The Italian truffles which are infused through this cheese gives it a deep earthy intensity. The reaction to this cheese (as well as the others, based on each person's personal taste) is so satisfying to watch. Comments like; "cheese is the best thing in the world," and "oh, WOW!" were not uncommon as we served up samples to hundreds of people who came through to try some of the guild's cheese. I even received a fist bump from the owner of Dell'uva (a relatively new Wine Bar in the North Beach area of San Francisco), since he was so overwhelmed by Truffle Tremor. He told us that he already carried a few other cheeses which are part of the CACG, and it is the because the Guild (and Cheese Plus) would be serving up samples that he attended the Harvest Artisan Food Festival.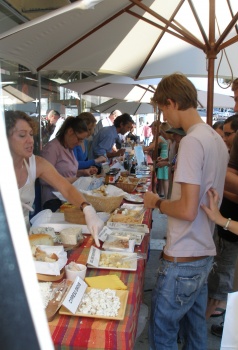 As you know, I'm a real fan of cheese. Not only from California, but the world over. If the cheese is made with time and care (and quality ingredients) for the best possible taste, then the chances are I will like it. Many people, however, don't realize what they are missing since the extent of their cheese knowledge might be what is mass-produced and marketed towards them. The CACG, as part of their mission, desires to help educate people about just how amazing the artisan cheeses that California has to offer are. At events like the one on Saturday, people discover what they may have been missing, or learn of new and different cheeses that they haven't had before.
Speaking of which, there were other cheeses to be had too. Ray and his staff of Cheese Plus had excellent samples inside. I'd love to talk about some of the other artisan food vendors which were present for the event, but my inner-cheese voice would start chiming in, so instead I'll mention that we were serenaded by Duo Gadjo, and everyone was having a great time. If you don't want to miss the 5th Annual event next year, I suggest you either sign up for Cheese Plus' mailing list, or for all things cheesy, artisan and Californian, become a member of the California Artisan Cheese Guild.
Do you have a new/current favorite cheese you've discovered? Use the Comment section to let me and others know about it.